About Sir Bud Productions
Sir Bud Productions is a project created and run by Mike Becvar. This is a website where Mike can try different website development techniques and showcase his work. The website was first launched in 2004 and has seen various updates over the years.
Mike Becvar is a multimedia, web, and eLearning programmer located in Northern Virginia. He has been on the Internet since the early 1990's and working professionally since 1996. He has worked on a variety of interactive media and technology-based training projects.
eLearning Development
Mike began his career in 1996 as a Computer-Based Training programmer at American Management Systems in Fairfax, VA. He worked for their Training Services group and helped develop custom training for large software systems using ToolBook. As time went on, Mike picked up new skills including instructional design, graphic editing, photography, and website development.
Mike currently does most of his website and eLearning development using XML, HTML, JavaScript, and css.
WORK EXPERIENCE
KENROB Information Technology Solutions, Inc.
July 2007 - August 2009
eLearning Applications Developer

PAL-Tech, Inc.
November 2003 - July 2007
eLearning Applications Developer

BearingPoint, Inc.
March 2003 - November 2003
Senior Consultant
Senior Computer and Web-Based Training Programmer/Developer

PSI International
November 2002 - Present
Independent Contractor
Senior Computer-Based Training Programmer/Developer

American Management Systems, Inc.
Integrated Learning Solutions Group
September 1996 - November 2002
Principal
Senior Computer and Web-Based Training Programmer/Developer

Mike's Other Interests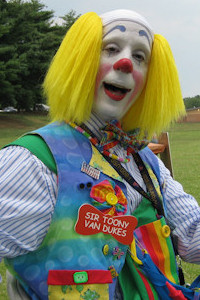 Acting
Mike Becvar has some experience as an actor. He has been an extra in a few Hollywood movies, TV series and independent productions. His training includes attending the New York Film Academy (NYFA) One-Week Acting Workshop at Universal Studios California and taking acting classes at the Studio Theatre in Washington, DC.
Clown
Mike is a professional clown, Sir Toony Van Dukes. He was trained at Mooseburger Clown Arts Camp in Buffalo Minnesota.
Mike's work and other activities limit how much time he can spend clowning around. He has learned how to juggle, ride the unicycle, face paint, twist balloons, and perform simple magic tricks.
Many of Mike's website projects have come from his experience as a clown. He currently runs the website for his clown character, Sir Toony Van Dukes, a second website for professional clowns called The Clown Network, the website for his clown alley, Just Clowning Around of Northern Virginia and another local clown alley, Kapitol Klowns.
About Buddy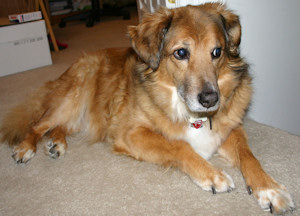 Buddy was Mike's first dog. Buddy was born in or around January 1997. Mike rescued Buddy from the Fairfax County Animal Shelter in September 1998. Buddy was a little over a year and a half old at the time. The records listed Buddy as being a Collie-Shepherd mix, but people often said that they saw other breed characteristics.
Buddy was always a good dog. He stayed off the furniture and ruled the basement when nobody was home. At some point, Mike gave Buddy the nickname, Sir Bud, and that was the inspiration for the name Sir Bud Productions.
Sadly, Buddy passed away on Tuesday, May 19, 2009. His memory will live on in the name of this website, Sir Bud Productions.